The Air Products Foundation
The mission of the Air Products Foundation is to build meaningful relationships with charitable organizations that share the values inherent in our higher purpose and to enhance positive relationships with Air Products' employees, communities, customers, and shareholders.
Using its mission as a guide, the Air Products Foundation supports programs in our host communities throughout the U.S., in global locations where we have employees and operations, at colleges and universities where we are strategically engaged, in national organizations committed to diversity and inclusion, and through employee- and retiree-directed matching gifts programs..
In fiscal 2021, the Air Products Foundation made $7 million in cash contributions including grants to organizations near our headquarters, throughout the U.S. and international communities. International giving increased by 40 percent in 2021. These grants reinforced our community outreach plans, responded to community needs, and supported eligible non-profits, particularly through matching gifts. Totaling $2.4 million, the matching gift portion of the donations was distributed based on employee and retiree giving, thereby reflecting the organizations most important to our people.
In addition, the Air Products Foundation, consistent with its priority to support education and workforce development, provided talent grants to eligible institutions and organizations that help us attract, develop, and retain diverse talent.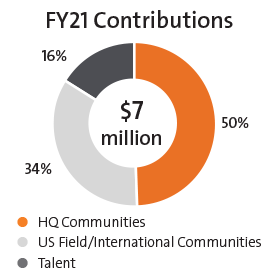 Leading the United Way Campaign
Across the U.S., Air Products is a proud supporter of the United Way. In 2021, Air Products' director of Community Relations and Philanthropy, Laurie Gostley Hackett, chaired the regional 2021 campaign for United Way. With the strong support of Air Products, she stepped into the role with great optimism and enthusiasm, and recognition of how much our communities had been through over the past year. The campaign raised funds to meet the community's emerging needs while investing in sustainable solutions to challenges in the areas of education, emergency services, food access and healthy aging. The campaign was a significant success, raising a record amount over $19 million (USD) for the community, including $5.5 million (USD) from Air Products' employees, retirees, and the Air Products Foundation.