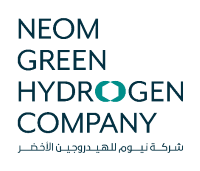 NEOM Green Hydrogen Company (NGHC), a
n equal production joint venture of ACWA Power, Air Products and NEOM, is establishing the world's largest green-hydrogen-based ammonia production facility run on renewable energy. This mega-plant will produce up to 600 tonnes per day of carbon-free hydrogen in the form of green ammonia as a cost-effective solution for transportation and industrial sectors globally.
This project is based on proven technologies. Novel aspects include the integration of these technologies, particularly at this scale, and utilizing ammonia to transport the hydrogen to global markets. The project will save the world about five million metric tonnes per year of carbon emissions (CO
2
).
Air Products is the primary EPC contractor and system integrator, and the exclusive off-taker of the green hydrogen produced in the form of green ammonia at the NGHC facility. We are proud to be shaping the future of energy with first-mover projects like this one.